I hope everyone is surviving the odd winter\spring that has been occurring. I am happy to report that Book 1 in the Second Life of Mr. Hunt series is now on Audible! Look for Book 2 on Audible at the end of June! I am already lined up to be at a variety of events […]
http://gerritovereem.com/wp-content/uploads/2018/01/Gerrit-Overeem_logo.png
0
0
Gerrit Overeem
http://gerritovereem.com/wp-content/uploads/2018/01/Gerrit-Overeem_logo.png
Gerrit Overeem
2019-02-16 17:40:51
2019-02-16 17:40:51
Book 1 Now on Audible!
SECOND LIFE OF MR. HUNT
BOOK 1: RESURRECTION
Ryan Hunt's ashes have been rambling through time and space for fifty thousand years. In the period that he's been dead, Earth has been destroyed and resurrected—twice. Now humanity is on the precipice of destruction once again, and Hunt gets a second life, along with the chance to save humanity.
Imbued with a sense of the divine, Second Life of Mr. Hunt shows us what exceptional things can happen when an ordinary man is given a second chance at life, heroism, and love. Learn more…
GERRIT S. OVEREEM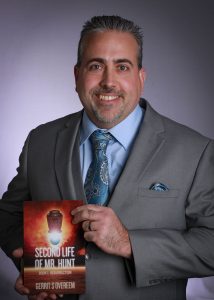 Gerrit S. Overeem is an IT professional whose passion for science fiction served as inspiration for Second Life of Mr. Hunt, his first book. In addition to enjoying Dungeons and Dragons and appearing at charity events as part of the 501st Legion Star Wars Costuming Group, he is also active in a local car club and has a black belt in Nihon Goshin Aikido. He lives with his wife, who has encouraged his interest in writing. Learn more…